Software Design Patterns
Florian Rappl, Fakultät für Physik, Universität Regensburg
Software Design Patterns
Introduction to modern software architecture
Software development processes
A software development life-cycle (short SDLC) structures development
This is often called software development process
We can categorize various different approaches by their attitude towards:

Planning
Implementation, testing and documenting
Deployment and maintenance

Most of this is only of academic interest
A crucial phase as requirements are set
Also a draft for the software specification is created
Better planning enables a better (faster, bug-free and feature-rich) development, but requires a lot experience
Sometimes planning can also result in contracts and legal documents (especially for individual software)
The requirement analysis can also contain prototype creation
Actually writing code with logic is called implementation
This phase could be broken in various sub-phases (prototype, API, realization, ...)
Usually the whole process should divided into little tasks
Developers take care of these little tasks
Engineers keep in mind the big picture
Testing is important to ensure quality
Goal: Minimizing bugs, maximizing usability and stability
There are multiple kind of tests: automatic, manual, usability, performance, ...
Some of them are contradictions (there cannot be automatic usability tests), some of them should be combined (like automatic code unit tests)
There are movements towards dictating the implementation by automatic tests (see TDD chapter)
Documentation is important due to various reasons

Manuals for users (top level)
Manuals for other developers (low level)
Legal documents (fulfillment)
Finding bugs and improving code

Documentation should not only be done in documents but also in comments in the code
Many tools can take comments and create documents
Finally a software product can be released
More than just releasing a binary might be required:

Installation
Documentation
Customization
Testing and evaluating

Training and support might demanded as well
Software is never finished
Updates may be needed due to include new features or fix bugs
Here we are usually out of the requirement analysis scope
This is where excellent software architecture shines
Making software maintainable is the hardest task
Waterfall model
Spiral model
Iterative and incremental development
Agile development
Rapid application development
Predictive and adaptive planning
Desire for predictability in software development
Predictive planning uses two stages:

Coming up with a plans (difficult to predict)
Executing the plans (predictable)

However, majority suffers from a requirement churn
Let's face it: the requirement churn cannot be avoided
Now we are free to do adaptive planning, i.e. trying to deliver the best software and react to changes
Both break a project into smaller chunks
Waterfall does it based on activity
Iterative identifies subsets of functionality
No one has ever followed one of those purely
There will always be impurities leaking into the process
Iterative development can also appear as incremental, spiral, evolutionary etc.
Pure waterfall has never been used and waterfall is generally disliked
One can have an hybrid approach that takes a subset of waterfall and the iterative process
Analysis and high-level design are usually done first
Coding and testing phases are then executed in an iterative manner
Main advantage with iterative coding: Better indication of problems
Consider using time boxing to force iterations to be a fixed length of time
Agile software development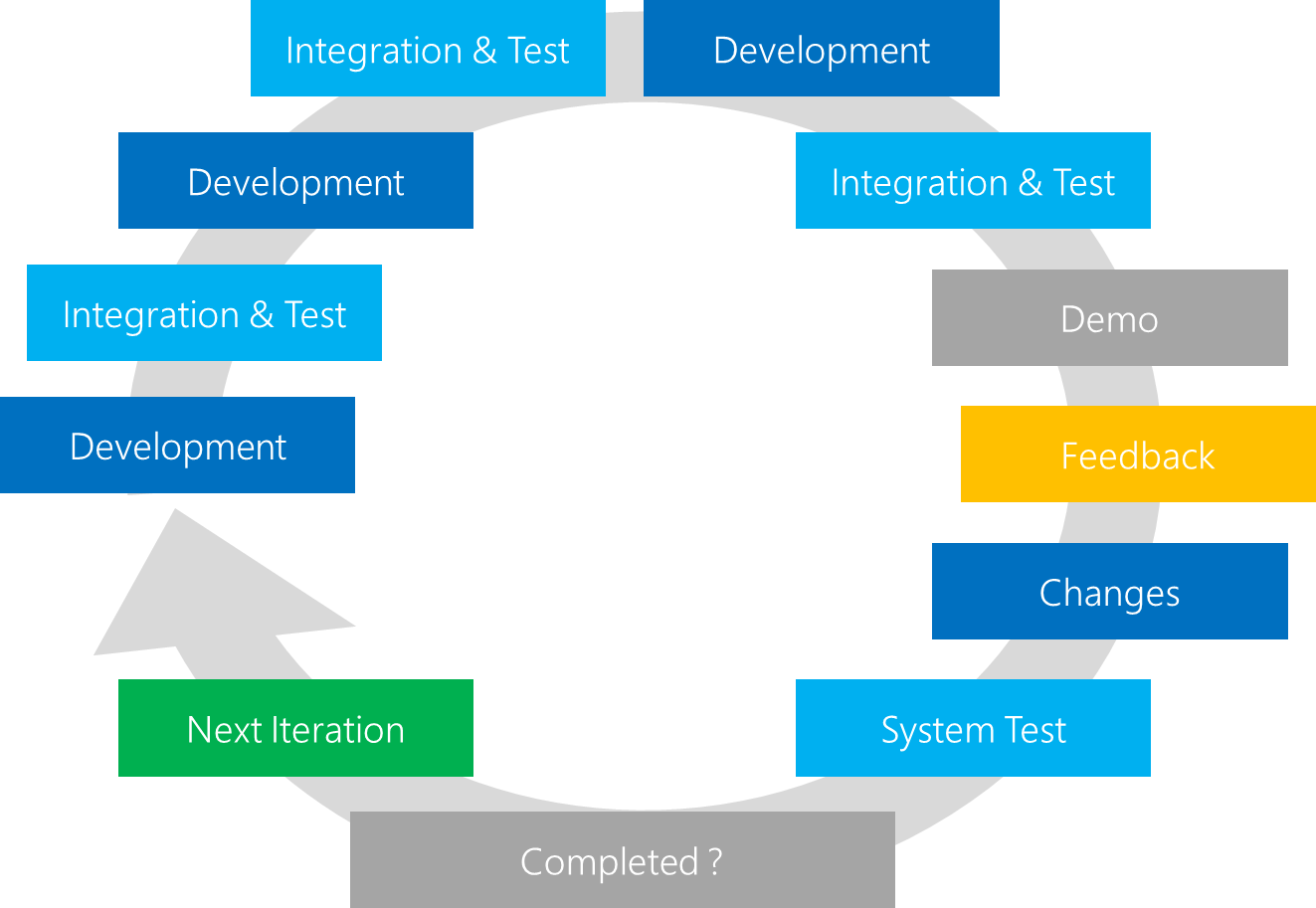 Agile is an umbrella term that covers many processes
Examples: Extreme Programming, Scrum, Feature Driven Development
Very adaptive in their nature
Quality of people and their interaction results in quality of code
Agile methods tend to use short, time-boxed iterations (a month or less)
Usually agile is considered lightweight
A process framework
Provides vocabulary and structure for discussing processes
A development case needs to be selected
RUP is essentially an iterative process and has four phases:

Inception (initial evaluation)
Elaboration (identifying requirements)
Construction (implementation)
Transition (late-stage activities)
Developing software efficiently is not only a matter of the planned life cycle, but also of using techniques like

Version controlling (e.g. git)
Automated regression tests (e.g. JUnit)
Refactoring (e.g. VS)
Continuous integration (e.g. TFS)

We will have a look at two of those techniques later
Fowler, Martin (2003). UML Distilled: A Brief Guide to the Standard Object Modeling Language (3rd ed.).
McConnell, Steve (1996). Rapid development: taming wild software schedules.
Kent, Beck (2000). Extreme Programming.
Highsmith, James (1999). Adaptive Software Development.