Software Design Patterns
Florian Rappl, Fakultät für Physik, Universität Regensburg
Software Design Patterns
Introduction to modern software architecture
UML means Unified Modeling Language
It is a family of graphical notations with a single meta model
Purpose: Describe and design software systems
In reality it can be used for a lot of things
UML is an open standard that is controlled by the OMG (short for Object Management Group)
It is used for doing MDA (Model Driven Architecture)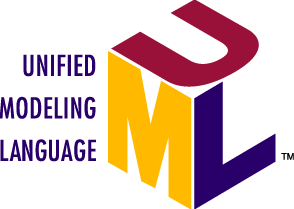 It was released in 1997, with a major update 2005 (v2.0)
The current version of the UML is 2.4.1 (published in August 2011)
Three modes: sketch, blueprint and programming language
UML as a sketch is the most popular
Reason: Organization, selectivity, discussion
Blueprint diagrams are about completeness
They have to be very detailed, such that programmers only need to follow them
It is possible that UML represents source code, which can be compiled and executed
Four great ways to utilize UML:

Understanding legacy code (e.g. class)
Documentation (e.g. state)
Design (e.g. package)
Requirement analysis (e.g. use-case)

UML is a great for communication with non-software people
Important here: Keep the notation at a minimum
UML 2 has 13 different diagram types
The standard indicates that certain elements are typically drawn on certain diagram types
But: diagrams are not the central part
And one can legally use elements from one diagram in other diagrams
Important for us: class, object, activity, use-case and sequence
Others: communication, component, composite, deployment, interaction, package, state, timing
Classification of diagrams
Legal UML is how it is set by the standard
The problem is the complexity of the specification
But: UML is not prescriptive like programming languages
Instead the UML is actually a descriptive language
Hence the UML is a mix of independent conventions and official notations
This results in the UML standard being a guide, not a burden
Here boxes represent classes
The name is on top, usually marked bold
Two optional sections: Attributes and operations, with syntax:
visibility name : type [multiplicity] = default {property}
Attributes could be fields or properties (this implies get / set methods)
Visibility: + (public), - (private), # (protected) or ~ (package)
A name is required, its type is sometimes left out
Default value and property (like readonly, frozen, ...) are optional
Associations are drawn by a solid line ━
Such associations can either be uni- (from source to target) or bidirectional (using a simple arrow) ˄
Generalization: A solid line that ends with a closed arrow (looks like a triangle) at the general class △
Notes or remarks are attached with a dashed line (no arrow required) ┄
Dependencies are represented by dashed lines ┈
Aggregation Vs Composition
Sometimes we want a special kind of association, either:

Aggregation (opaque rhombus, ◇)
Composition (filled rhombus, ◆)

(1) is weak and specifies an optional association, like consisting of
(2) is strong and specified a requirement: like is part of
Composition also implies a no-sharing rule, i.e. a single class cannot be part of two classes directly, but only of one
Aggregation and Composition
We an annotate classes with keywords like «interface» or «abstract»
Additionally we can mark static attributes and operations by underlining their definition or using the underscore _ symbol
Difference between operation and method: A method is the implementation (body), while an operation represents just the name
Some keywords are usually abbreviated (like A for abstract or I for interface)
Expression of is a relationship: Substitutability
Maps directly to inheritance in most OOP languages
Subclass/derived class is a generalization of superclass/base class
Highest semantically defined relationship
The purpose of generalization (inheritance) is to solve design problems
Don't use generalization if there is no design problem
All operations are public, and no operation has a method body
Indicated as keyword «interface», or with a label {interface}, or abbreviated label {I}
In this case, inheritance means implementation
We can also have a dependency relationship with an interface
Additionally ball-and-socket notation very common
Ball - class provides interface (labeled), Socket - class requires interface
Derived properties are attributes
They start with a forward slash /
In general they represent computed values, i.e. a combination of other attributes (usually there are multiple equal choices)
Another name is computed value
Very useful to remind people of the underlying constraints
«struct» for symbolizing value types (should be immutable)
«enumeration» for creating an enumeration
Additionally templates are possible by placing a dashed box in the upper right corner (containing the template parameter(s)) ┊
Marking an active class is possible by using two vertical lines ║
Closely related to class diagrams
Shows instances at a given time frame
Sometimes therefore called instance diagram
Usage e.g. showing configuration of objects
Names are not in bold, but underlined like Instance : Type
Values do not need types and multiplicities (also no methods in general)
Values are now mandatory like location = "Boston", or state = false
Technique to describe procedural logic, business process and work flow
Quite similar to flowcharts, but they support parallel behavior
One new symbol for fork (e.g. 1 in, 2 out) and join (e.g. 2 in, 1 out)
Initial node is a filled circle ●
Actions are placed in rounded rectangles ▢
Decisions are symbolized by rhombi ♢
Activity final is represented by a bullseye ◎
Here nodes are called actions, i.e. we have a sequence of actions
A decision is called a branch
Square brackets contain guards, where else is a special guard that the flow should be used if no other guard applies
A merge has to come after a decision (marked by a rhombus), with several incoming and one outgoing flow
Additionally one might want to use partitions or even events called signals (which will not be introduced here)
Capture the functional requirements of a system
An actor is a central node type in such a diagram (sometimes called role)
Common information could be added:

A pre-condition how the system should look like
A guarantee what the outcome is going to be
A trigger when to start the use-case

Also differentiate between fish-level (only included in higher levels), sea-level (standard) and kite-level (big picture)
A use case is a set of scenarios tied together by a common user goal
Actors do not need to be human
The specification is surprisingly sparse on use cases
The value lies completely in the content, not the diagram
Usually one starts by writing a use case text
Great way for brainstorming alternatives
Most important interaction diagram type
Captures the behavior of a single scenario
Shows example objects and the messages that are passed between these within the scenario (displays no control flow)
Objects (□) are bound to lifelines (dashed lines) ┆
Messages have a direction →
The destruction (delete) of an object is shown with an X
Additional annotations like «new» are possible
Common issue: How to show looping? Answer: You don't!
If logic is required use an interaction frame, but only in extreme cases
Sequence diagrams should illustrate how objects interact
Even though deletion is not required in GC environments using the X to indicate disposable objects is worth it
Asynchronous messages can also be displayed using the special arrow ⇀
Package diagrams can be used for illustrating top level library views
Deployment diagrams are useful for setup or installation processes
State machine diagrams supply everything for showing relations between (even concurrent) states
Timing diagrams notate timing constraints which is important e.g. for electronic engineering
Also communication and (composite) structure diagram types are existing
Examples of some types to follow
Use a composition arrow (as defined for packages) to indicate nested classes, if really needed
Here Enumerator is nested within Dictionary
Command-Query separation: Operations with no return value commands, all others are queries (they do not modify anything)
If relationships to specific class of objects will change we can mark the relationship in the class diagram with a «temporal» keyword
Messages between classes can be drawn using arrows above the relationships with the name of the messages between these classes
We can use a rake symbol ⵄ within an action box to indicate a sub activity diagram in an activity diagram
Ambler, Scott William (2004). The Object Primer: Agile Model Driven Development with UML 2.
Chonoles, Michael Jesse; James A. Schardt (2003). UML 2 for Dummies.
Fowler, Martin (2003). UML Distilled: A Brief Guide to the Standard Object Modeling Language (3rd ed.).
Jacobson, Ivar; Booch, Grady; Rumbaugh, James (1998). The Unified Software Development Process.